Back in about 2008, sisters Eng and Buay moved to Bangkok, and over five years they slowly grew their tour business. They created a website, and started growing a decent year round tourism business.
Now, there are low seasons and high seasons in Thailand, and their focus was not only on day tours, but also on multi-day tours. Their base was in Bangkok, and let me tell you, it's pretty darn competitive in Bangkok. There are currently in TripAdvisor, 366 activities listed in Bangkok alone, and out of that, 105 sightseeing tours.
So do they have competition? You bet.
Google's Dangerous Search Engine Dance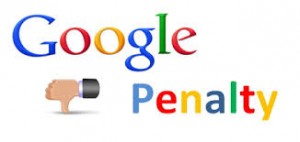 So like most of us, we rely on a good search engine and working at getting our Google ranking up. Yeah, it would be great if we didn't have to rely on Google and be engaged with that, but it does make a difference on our rankings.
So in 2012, Google started doing some pretty serious changes of how they rank websites. Now, Eng and Buay, they were still the same company that they've always been. They've been providing great service. They had happy clients. They were doing a little bit of business development in other areas with little TripAdvisor marketing and a social media. They were in Facebook, but most of their traffic was from Google. With Google's' changes they lost ranking and 40% of their traffic.
So this is pretty devastating. It's nothing to do with how they work or who they are, but it's just the environment we work in. It's like a natural disaster, stuff happens, especially for those of us in the active outdoor field. That's why they call it adventure travel, shit happens.
By the way, Eng and Buay website is LJ Biz, Bangkok soft adventure and cultural tours.
So anyway, so what did they do about their huge Google search engine ranking drop? Eng and Buay had bought my Tourism Marketing Success course about a year before that and then they've decided to hire me for some marketing. We worked on some of the topics that I've been talking with you about.
 Tripadvisor Tips to Increase Bookings and Sales
First and foremost we wanted to make sure how we get more leads and sales from existing traffic, so that was number one. We worked on getting higher retention, more page views and more leads. We worked on getting more quality traffic that's interested in our type Thailand tours and convert a higher percentage of that traffic.
The answer, of course, was TripAdvisor. Yes, it's super competitive. Yes, there is a bunch of other tour operators there, but it was a matter of us slowly and systematically working on gaining more reviews and more favorable reviews by implementing a relatively simple and easy process.
So what happened for them? Well, in over a year's period, they went from being about number 80 of Bangkok activities to about number 14, and they went from a ranking of about #45 in sightseeing tours into the top 10. They're currently number 7 which I'm thrilled to see.
What Was The Secret to Their Best Off-Season Bookings?
So what does this mean to them? Last year in 2013 during the slow season of May through September, they had their best slow season ever. Their overall business turned out not to be down, but a little better, even though they had lost 40% of their traffic.
So what I want to leave you with today is that diversification is key, and TripAdvisor is an awesome choice. What we know about TripAdvisor visitors is that they're absolutely looking for what you are selling.
Reviews always have been and always been more powerful than anything before to convert travel shoppers into buyers. It's like Google. We can't change it. It's the giant elephant in the room, so you better get used to it.
Are there people that are making false reviews? Absolutely, but that doesn't mean you stop participating in the game. In my Travel Business Success blog, I did a post a while back with TripAdvisor tips to help marketing. Coast to Coast Tourism Auckland had some pretty tough thing to say. They didn't think that TripAdvisor worked fairly, and that necessarily more reviews didn't equal higher ranking.
Yeah, it would be great if tripadvisor just looked at your past ranking, but it's like any business, you've got to keep on planting seeds. You cannot rest on your laurels. Someone will pass you by. You're in a business, and business has competition.
I think today's travel consumers are smarter than ever. They will read the crappy reviews. They will read the good reviews. If they see that you don't have any reviews for a while because you didn't ask for them, then people are going to forget about you. People's attention span is pretty limited. I don't think it's rude at all to ask for a review.
Tripadvisor Readers are Tripadvisor Reviewers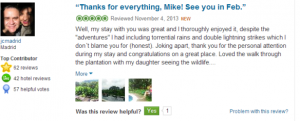 Savvy travelers appreciate reading reviews from other travelers. It helps them too that TripAdvisor buyers are also TripAdvisor reviewers. I just want to close on saying of all the clients I've worked with over the years, especially some of the higher end travel operators, they have all told me consistently;
"100% of the people who buy the tour, book the trip, all read TripAdvisor reviews."
So like it or not, you've got to start getting involved or improve your involvement with tripadvisor.
Later on, I'm going to start giving you some more case studies and more Tripadvisor  tips. These tips have helped many tourism operators to easily and quickly to increase their leads, increase their sales and ultimately, lower their marketing costs. Diversify your traffic sources. Do not be stuck on what Google is doing and prosper.
Tourism Tim signing off. Have a great day!
Click on Player Below to Listen to my Audio on this Case Study