How did Doreen and Bob Toller, who run a small family-owned tour operator business in Alaska since 1998, increase sales 200%, to over 7 figures of bookings in 1 season – in spite of very heavy competition?
Want to learn their tourism marketing, sales and operational success secrets?
Listen today to learn for yourself how their small and steady tour operator business and marketing improvements – especially on their website –  has helped them transform their life, their staff's and their future security.
Do You Wear Too Many Hats Running Your Tour Operator Business?

Doreen and Bob, founders of Alaskan Tour Guides are like so many of us in the tourism, travel & hospitality business who have too many things to do… This includes: operate tours, manage and inspire staff, do marketing and sales, create and manage online marketing, social media, manage equipment and facilities, legal, accounting, learn new things and on and on and …
Can you relate?
If so you will love to hear how Doreen and Bob have built their tour operator business for a different experience. They now have more time to focus on building their business, actually take two 2-week vacations to Hawaii a year, are happier and have more profits by re-investing in their business human resources, vans and more.
Listen Now
Tour Operator Business & Marketing Tips



Click on Player Button to Hear or Download Travel Business Success #59
Who are the Toller's, Co-Founders of Alaskan Tour Guides?
Doreen and her husband Bob are the founders of Alaskan Tour Guides and Toller Timbers Chalets started 1998. In their first year of operations, with no experience in tourism, they did a total of 6 only tours. They were not even sure if this tour business was right for them. But they persisted.  They ran the tourism businesses themselves. All the while, continued to grow their tourism business and travel marketing knowledge. Every year growing a little. Sometimes a lot as you will see…
How Did Doreen Learn & Apply Her Successful Tour Operator Business Marketing?
Doreen bought my original Tourism Marketing Success book after attending one of my live workshops at a travel conference around 2004. In addition, she has also has gotten some 1 on 1 coaching from me, plus attended some of my live phone and online webinars with me too.  Listen and read today to learn how their steady growth with some of my guidance has helped Doreen and her husband Bob create a super profitable, fun and growing tourism business they always dreamed of, and how their sales up 245% over the last three years. 
 Listen to Doreen's Comments When Their Bookings Increased ONLY 45%

Operations: blessings & insights of building a successful tour business.
The best way to grow your business and keep quality operations

What hiring an operations and office manager has done for them

How to create financial & retirement security

Employee retention and creating a benefits plan

Build a great team that's fun to work with

The wisdom of owners investing in their own vacations every year
Tourism Marketing Discoveries
Ops manager gives her more time to focus on business development

How social media really does help promote selling travel

Why testimonials are their #1 source of referrals and low cost business growth
Online Tourism Marketing Tips
Why you DO NOT have to be a "tech master" to marketing travel online.

How to increase sales – even if your website is not super fancy

Tracking Google analytics to uncover quality & crappy traffic and how to improve leads even more.

The power of strong organic ranking, COMBINED with a "Travel Website That Sells©"

What are your best source of website quality traffic that stay longer and generate more bookings?

Why "quality" of website traffic is much more important than "quantity" of traffic

Why my Tourism Marketing Success course is part of Doreen secret weapon to radically increase bookings both on and Off Line.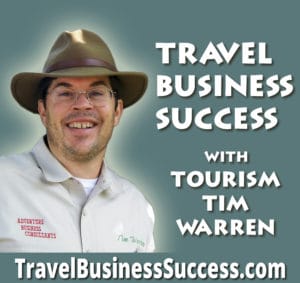 Subscribe for free today. Find out why global travel, tourism and hospitality worldwide just like you, listen to and prosper from the tips and no BS advice Tourism Tim and his industry experts share to help you prosper in your travel business dream.
What is your #1 Travel, Hospitality or Tour Operator Business Question or Comment?
Please post them at the bottom of the page in the Facebook Comments window. I'll get back to you with more answers and advice to help you succeed.