Here are 4 Top Travel Business Marketing Tips, Used by All Successful Tourism Businesses, That Need to be a BIG Part of Your 2015 Plans
Watch this Short Tourism Marketing
Highlights Video and Prosper
Where Has Tourism Tim Been?
Greetings fellow tourism professionals. Sorry you haven't heard from me in a while.I've been busy with two tourism projects in Mexico, working with my brother, a new ecommerce project and dealing with senior mom issues.
All is good. But I've been thinking about you and have some really important tips below that will help you increase your sales and profits in 2015 guaranteed.
Travel Business Marketing Planning For 2015
What are you going to do different next year to increase your tourism business dream? If you haven't thought about next year yet, now is the BEST time of year to start planning.
As part of my planning, I've been reviewing what worked best in 2014 by successful tourism businesses and how you should use this knowledge to increase your success in 2015.
 
4 Top Travel Business Marketing Tips I Recommend For 2015
http://youtu.be/sz2PwM0zHxU
Success in your travel business fall into two foundational categories: customer service & Internet tourism marketing. Done right, they are both a part of a big 4-part travel business marketing circle that each fully supports the success of other.
#1 Customer Service
Awesome customer service always has and always will help you build a great reputation and strong word of mouth advertising. Research proves that word of mouth is the most trusted form of travel advertising, and the most effective to convert travel shoppers into travel buyers – especially online.
Here's a short blog post and study by Nielsen on why 92% of travel consumers trust "word of mouth" most I recommend you check out.
How do you know if your service rocks or sucks? Ask.
I recommend you use some sort of simple mini surveys right at the end of the trip to see how you are doing. Better to know in advance who is happy and who may be unhappy and needs attention – BEFORE they write some scathing review in tripadvisor… And when you know who is real happy with your service, those are the guests you ask for reviews.

Find out below why awesome customer service step #1 begins and ends the most profitable travel marketing.
Internet Tourism Marketing
These days, if you do not have a strong Internet tourism marketing strategy, you cannot survive in the tourism business. To complete the 4-art circle, a strong tourism marketing program consists of these three key parts too.
#2   A Travel Website That Sells©
 How many of you have a travel website that does not consistently generate solid leads and sales visitors? You are not alone.
Time and time again, I have seen pretty sites that use top technology designed by computer wizards and designers, but fail on leads and sales generation. These are travel website that I call "Dead on Arrival" (DOA). Designers and tech teams don't understand the psychology of selling travel. They do not know what travel shoppers are looking for when they are evaluating travel or lodging providers to make a purchase.
One of the most important elements that must be in your travel websites is "Word of Mouth" which is a form of what is called "Social Proof". Social proof means that others are sharing their opinions, ratings and reviews. This proof by fellow travel peers heavily influences travel shoppers if they choose your travel, tour, service or destination – or not…
A Travel Website That Sells© utilizes three proven "social proof" mental triggers to communicate quickly and clearly:
What you do and where

You are a quality operation with experience

Your commitment to traveler comfort and safety is a top priority
These three critical elements are what travel shoppers are evaluating in seconds when they visit your website. If you want to convert more travel shoppers into travel buyers, you MUST communicate these three elements fast. Otherwise your hard earned web visitors are gone, usually forever…
Most Internet travel marketing strategies focus too much on website traffic, which is important. But all the traffic in the world doesn't mean squat if your site doesn't generate quality leads that convert into sales ove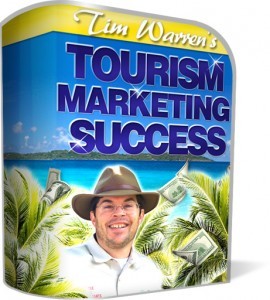 r time.   You need both.
That's why I create a step by step, easy to use program on how to create a "Travel Website That Sells©" that helps convert travel shoppers into buyers. Plus the course will help you earn higher ranking and traffic too, even if you know nothing about online marketing. Check out my "Tourism Marketing Success Online Program here. It's guaranteed to help you increase leads and sales or your money back.
#3:   Quality Website Traffic  – 6 Top Sources
How many of you have lost ranking and traffic from Google search result changes? I have. It sucks! Diversified traffic from multiple source is smarter, better and more scalable.
The six top sources of online traffic include:
Organic from search results

Direct (email, referrals, alumni, etc)

All forms of paid online advertising

Social media

Referring sites you are linked to (news releases, organizational, etc.)

One of my favorites, REVIEW sites (like Tripadvisor, Yelp and may others).
Remember website traffic that does not capture email leads and phone calls is a WASTE of your time and money. That's why a successful Internet tourism marketing strategy has a "travel website that sells" AND diversified quality traffic.
But one of best forms of generating leads, sales and that lowers your marketing costs, comes from your exiting customers in the form of referrals, repeat business and positive reviews in social media channels. This is tapping into your happy customers that like and trust you. This is "Social Proof". Unfortunately most fail at this important aspect in the circle of tourism marketing community building…
#4: Community Building
Imagine the process of success in your travel business as a big circle. It starts by attracting your best prospect to your website from multiple sources, then your Travel Website That Sells© generates leads and sales, then you provide your new clients with great customer service, finally your happy customers become public advocates and repeat customer.
When you actively stay in touch with happy customers after the sale, you will earn more referrals, more repeat business and more positive social media reviews. This is getting your clients selling for you. It works great! Plus it lowers your travel marketing costs and time. This is why this last tip is one of my most important travel business marketing tips for your success in 2015.
Check out this customer review example like you could use too.
http://youtu.be/WHvaLp8jDlw
What to Look Forward to 2015 to Grow Your Travel Business

This article was intended to be a short overview of four proven tourism marketing strategies used by all successful travel and hospitality professionals. How you implement these travel business marketing tips makes a huge difference in how well they work and how profitable they will be for you.
That's where we can help.
My team and I are working on some really exciting new trainings to help you implement these strategies and more. Plus I am working on new updates on my popular Tourism Marketing Success online program. All of this is dedicated to guide, inspire and connect current and future travel professionals like you realize your dreams.
And as I mentioned earlier, the best way to improve your service is to survey your audience and customers. So Look for a short survey from me in early 2015 to help me help you be more successful in the coming year.
Happy holidays. See you soon.
What are you going to do different next year to increase your tourism business dream?
I really want to know. Please post your comments below.