Travel Business Marketing Videos to Help You Succeed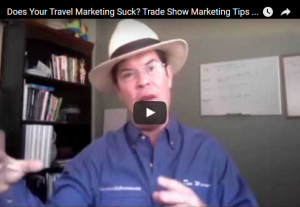 If you want to start, grow or sell a travel business, you have come to the right place.  Here are my most popular "how to" videos to help your travel business, tourism marketing or hospitality business succeed.  If it has to do with increasing your bookings and bottom line, chances are you will find below.
Each of the almost 100 travel business marketing videos with myself and industry experts has "show notes" and additional resources to help you learn and prosper.
I love to make travel business marketing videos as training and educational tools. They are the ultimate educational resource. Video gives you the ability to see website examples when I am coaching clients, meet tourism peers and be inspired visually too.
And once again, all these travel business marketing videos and training resources are  my gift for you.  If you like them, thanks for sharing using the social sharing buttons on each page. Also you can subscribe for free using the RSS feed above or via my Youtube Channel here.
Also be sure to check out my growing "Tour Operator Success Series" below. These entertaining interviews with successful award winning tour operators are sure to inspire, guide and connect you with sage profitable advice.
Tour Operator Success Interview Series 
One of the best ways to learn the business of tourism faster, easier and for less money, is to find a mentor or coach to guide you on the path. Here some some great inteviews with successful tour operators I admire. Watch these videos. You will be inspired, entertained and learn valuable business, marketing, management, operations and strategic planning insights guaranteed to accelerate your success.  If you feel your travel, tourism or hospitality business  has been very successful and you want to help your peers, contact  info@TravelBusinessSuccess.com to see if you qualify.
  Are you spending lots of money on your Internet tourism marketing to get your website ranked and increase traffic… with little results? Got traffic to your website, but not capturing leads or converting sales? Do you have little repeat business or referrals?  If you answered yes to any of these questions, you are not [...]