Travel Business Success Podcast
Free Business, Marketing, Sales, Social Media, Management & Leadership Training
Join me as I share best practices of thought leaders in tourism marketing, travel business and hospitality management. I'll show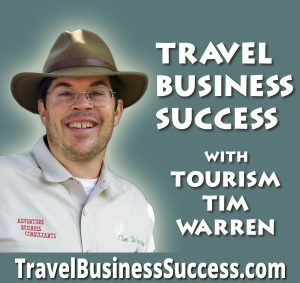 you how-to start, grow and succeed via success stories, expert interviews, training and education. Discover how profitable tour operators, travel agents, lodges, hoteliers, DMO's & NGO's worldwide use tourism marketing, social media, internet marketing and more to increase bookings, arrivals and profits.

Travel Business Success podcast is fun, focused and easy to listen to learning. The education and encouragement you can get ranges from beginner to masters level tourism guidance guaranteed.

Why Do I Love Podcasts? 
Podcasts are great to listen to, learn and prosper no matter what you are doing. I love listening to them while I drive, flying or sometimes even when I work outside. You can download them to most phones, tablets and desktop computers and enjoy anywhere, anytime.
Best of all, Travel Business Success podcast is free. My gift to you to help you realize your travel business or career dreams.

Most popular topics: travel business & marketing resources include:
Tour Guide Careers: How to Be a Great Guide

Tour Operator Success Interviews with Award Winning Profitable Tour Operators


How to Use TripAdvisor to Grow Your Website Quality Traffic

Top Internet Tourism Marketing Mistakes and How to Avoid Them

How to Start an Adventure Travel Business and Career

Tour Operator liability Insurance Tips

How to use Podcasts to Promote your Travel Business

How to Work with Travel Media and Press Trips

Travel Advertising with Google and Pay Per Click Advertising

Tourism Social Media Marketing That Generates Bookings

Working with Travel Agents

Travel Website Marketing: Why Traffic is NOT the answer to Increased Sales

And so much more.

Subscribe to Travel Business Success Podcast for FREE

Listen and subscribe today in iTunes to get ACTIONABLE ongoing tips and SIMPLE and EASY strategies to improve your travel business success – and your bottom line! Almost 60 shows and growing. Thanks in advance for listening, subscribing and your 5-star reviews in iTunes!
IN addition, each Travel Business Success podcast listed here on TravelBusinessSuccess.com also has show notes and more resources to help you succeed in your travel business dream.
Let us know what you think of them and what additional travel business and marketing resources and topics you would like to see.
Do you ever wonder how to start, build & sell your travel business for maximum revenues? Want to know how to make your tourism business more attractive to a buyer and stand out from the crowd? How would you like to cash out by 50% to 100% or more than industry standard? Or do you [...]