Have you ever dreamed about being a travel entrepreneur?  Turning your passion for travel into a fun profitable business or career?
Or are you already a travel entrepreneur and finding your dream turning into a nightmare sometimes because you lack enough bookings…?
Either way, listen and learn today from world traveler, travel entrepreneur, travel writer and author Nicolas Kontis. Nick shares his travel business insights and tips that will help both new comers to seasoned pro's avoid painful mistakes, increase bookings and create a travel business that today's global travelers love. Or if you want to land a cool career in tourism, this show is for you too.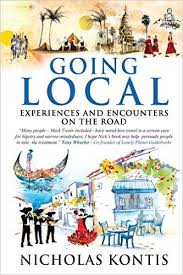 Seasoned Travel Entrepreneurship Advice
I often get emails from people who have a great passion for travel, and decide to turn it into business or career. This is great!  Passion is key to your success.

And I also get requests for help because many who jump into a new travel business, with no experience in the business and marketing of travel, struggle to generate leads or bookings and are not sure what to do to make their travel business dream come true.
Can you relate to any of this?
Listen Now
 

Travel Entrepreneurship

Tips

Click on Player Button to Hear or Download Travel Business Success #60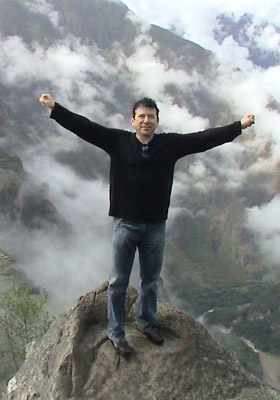 My guest Nicholas Kontis is truly a travel entrepreneur. He turned his travel passion into a business, and sometimes struggled along the way. At age 24 he took a 13-month around the world trip where he learned how to buy airline tickets at great discounts. He knew others where just like him, loved to travel and save money too. So when he returned home to San Francisco, armed with US$25,000, a major in history and minor in marketing, started America's first travel agency specializing in discount around the world airfares…
Did Nick have some "learning/ growth opportunities" as a new travel entrepreneur? You bet!  24 years later Nick is an accomplished entrepreneur, travel writer and recent author of a top selling book, Going Local" Experiences and Encounters on the Road.
Join me and Nick where we cover key areas to help current and future travel entrepreneurs and tourism career seekers succeed.
Travel Business Success #60 Travel Entrepreneurs Summary:
How to turn your travel passion into a travel business.
What are some of the biggest start up challenges for travel entrepreneurs?
Top recommendation for someone considering starting a travel business.
Why should a college student or someone quit their job and travel around the world, if they are interested in the travel biz?
Why travel consumers want more authentic "going local" experiences now.
How can a tour operator integrate more meals, learning and volunteerism into their itinerary?
How to find local "experiential tourism" providers, and experiences to integrate into your tours?
What are the some of the top online resources from your book, travel businesses should be engaged in?
What are some of the things small to medium sized operators or destinations can do to integrate more responsible travel into their programs?
Top do's & don'ts of working with travel journalists for travel professionals.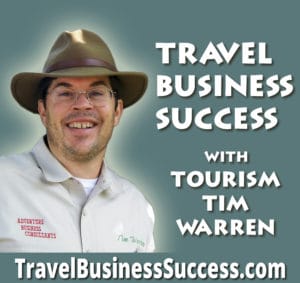 Subscribe for free today. Find out why global travel, tourism and hospitality worldwide just like you, listen to and prosper from the tips and no BS advice Tourism Tim and his industry experts share to help you prosper in your travel business dream.
What is your #1 Travel, Hospitality or Tour Operator Business Question or Comment?
Please post them at the bottom of the page in the comments window. I'll get back to you with more answers and advice to help you succeed.