6 Top Travel Marketing Tips to Increase Your Sales, Profits and Arrivals AND Lower Marketing Costs Online Guaranteed!

Tony, an Asian adventure tour operator, e-mailed me and shared a big challenge he was having in his 20 year old travel business.  Leads and sales were we way down.  He wanted a proposal from me to improve his website, search engine optimization and needed help with Internet marketing, or so he thought…
Tony said, "I used to have higher ranking in the search engines and tripadvisor. But in the last year my traffic and leads have really fallen off. I'm operating at about 20% capacity and barely making any money"
Here's the problem he doesn't really understand, and you may not either…
Tony thinks if he just got a new website and more traffic, his business would automatically have more sales. It is only partially correct. Here's why.
Why a New Travel Website or Online Traffic Can be a Waste of Money
A new website design and sales copy, that does not integrate proven "travel shopper psychology", that helps converts shoppers into buyers, will not generate a lot of new leads and sales.
Radically increasing traffic through organic or paid advertising efforts to your website, without creating a "travel website that sells" (generates lots of qualified leads and ultimately sales) is a total waste of your money and time.
Lead generation without prospect acquisition and sales conversion over time, is a total waste of your time and money!
Yes there are many things that influence travel shoppers to choose your company or your Lodge over the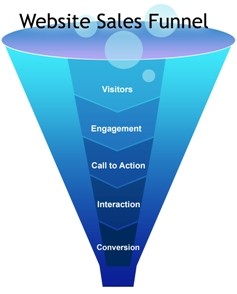 competitors. Not only online, but off-line as well. This process is called your "sales funnel".
So it is really important to focus on your lead generation and sales conversion together to maximize your investment of time and money.  Here are six key travel business areas that you should give the majority of your efforts to in 2014.  There are more details and help on these important tips that I will share as links below.
When you focus on improvements in these six areas (presented in two parts), you will actually lower your marketing costs and time, while increasing sales and profits guaranteed.
1:      Marketing & Lead Generation for Travel Marketing:
Many travel professionals confuse the difference between marketing and sales and how one supports the other.
Marketing is generating qualified leads that you can develop into relationships and customers overtime.

This could be getting visitors to your website, generating e-mail leads, phone inquiries, social media engagement, getting happy clients to refer to you, more visitors at your tradeshow stand and more.
Sales is getting people to give you money.
So if the majority of your tourism marketing efforts is just generating a lot of activity, but not getting contact information to develop relationships, you are wasting your time and money.
For marketing to provide you a return on investment, you must capture e-mails, phone numbers and prospect names so that you can turn "strangers into friends, and friends into customers over time". This is the process of effective travel marketing.
2:     Sales Conversion: How to Sell & Book More Travel

So imagine you are generating lots of traffic your website, e-mail inquiries or phone calls, what percentage of those are you converting to bookings? How long does it usually take from lead generation to sales conversion? How much money did you spend to acquire that lead?
These are all critical questions about your sales funnel conversion process. If you are getting a lot of leads but only a small percentage is actually booking, where is your "opportunity gap"? Meaning what part of your sales process is blocking sales conversions?
Some of the sales-restricting gaps I've seen include:
Slow response time to e-mail inquiry
Nobody around to answer a phone inquiry
Poor foreign language skills of front line sales staff
Unprofessional or in accurate collateral material (brochures, e-mails, etc.)
Not getting back to prospects after you have communicated once
No references, no endorsements, no testimonials
Bad reviews in tripadvisor or social media
Little or no follow up or communication over time
What is blocking your sales conversions? (post your answer below)
Answer these questions above and address your "Opportunity gaps" and you will be a long way towards a profitable return on your marketing and sales investments.
Here Are More Travel Marketing Tips to Increase Your Sales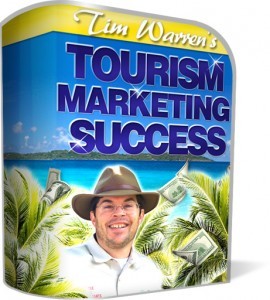 I know from my over 20 year as a travel business and marketing consultant that these first two tips, especially on your website, may be one of your biggest challenges and opportunities for growth. Many people hire me to create a new website for them, or as a coach to improve these areas over time. I have helped 100's have great results, but I know many of you can't afford this now or want more of a "do it yourself " option. That's why I created my online program Tourism Marketing Success.
It is one the best resources that will help you learn how to radically improve marketing and sales conversion, especially for your website and online marketing. Take a few minutes and check this out, especially the comments from fellow tourism peers about how this program has helped them improve their bottom line.
Remember, "Lead generation without prospect creation and sales conversion over time, is a total waste of time and money!
3:      Best Tourism Marketing: Social media and Community Building

One of the biggest gaps that so many have, maybe even you, is putting all your effort into acquiring a new customer. But after the trip or visit, you have poor follow-up and continued connection with your former customers. This is a huge loss to you and potential positive reviews, referrals, and repeat business.
Travel businesses that invest in strong customer relationships, long after the trip or visit, can generate 50% or more of their total business from referral & repeat business

What has made social media the game changing giants they are for travel marketers? It is the "social" side of the equation. It's all about community building and connection. After your client's tour, staying at your lodge or using your travel consulting services, one of the first things they do, is share with their friends and family about their experience.
What are they saying about their experience with you? You need to know.
Let's assume you're doing an awesome job on your customer service and operations during the trip or stay. When they get back we want them to share with as many people as possible, the positive aspects of their experience with you. Right? This is where community building and social media come in.
"Never in the history of tourism marketing, has there been a better vehicle to expand on what has always been the best form of travel marketing and advertising, word of Mouth.
So my recommendation is, build your customer community on and off-line before, during and long after our guest's trip. You will get more referrals, you will get more repeat business and lower your marketing costs because you will have your happy clients selling for you.
What Happened to Tony's Adventure Travel Business Marketing Problems?
Talking with Tony about his online marketing, I realized quickly that he needed much more than a ' Travel Website That Sells".  He lacked a marketing and sales systems and had wasted an enormous amount of time and money trying to "re-invent the wheel" without a proven road map.
So besides helping him create a new website using my proven "travel shopper psychology buying triggers" from my Tourism Marketing Success course, I consulted him over several months and we made improvement in all three areas above (plus three more key travel marketing areas I share in part II).
Tony's leads and sales went way up, referrals increase and his marketing costs and time went down. Most importantly Tony is enjoying his tour business and profits a lot more!
Here are more tips to grow your travel or tourism business dream.
 This includes Customer service, Technology for Travel Marketing and #6, one of the most important areas for your travel business success… Can you guess what it is?
Thanks for your Facebook sharing, Liking, Adding me to your Google+ circles, "+1ing", tweeting & Pinning on Pinterest, Comments & Questions