Find Out How 2 sisters Increased Their Direct Bookings 200% and Had Their Best Off-Season Ever in 2012 For Their Soft Adventure and Cultural Tour Company Using Tripadvisor Marketing and Other Tourism Marketing and Travel Business Tips I Recommended, in Spite of Losing 40% of Their Google Ranking…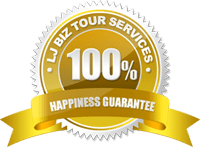 Thai sisters Eng and Buay dreamed of their own tour business since 2008 when they were tour guides. Over the last 5 years, their new business slowly grew through the Internet and travel agents.  But in 2012 they lost 40% their Google ranking. Damn those Google's updates!

Has this happened to you? For most tour businesses, this could be devastating…
Fortunately with my guidance, Eng & Buay had been growing other much better online traffic channels. The quality of this traffic was so good, they increased their direct bookings 200% AND gave them their best off-season ever.
 Find out how they grew their adventure travel business. Read on and watch this video.
In this episode of Tourism Marketing TV, adventure travel business operators Eng & Buay, owners of LJ Biz Thailand Cultural & Adventure tours share some of their insights and business successes tips they learned working with me as their consultant and coach.
What was our tourism business and marketing goals when they hired me?
Increase the number of quality channels of online traffic

Improve their travel website lead generation and sales conversion

Increase direct bookings and profits

Create more fixed day tours

Lower marketing costs
If you can relate to any of these 5 goals, or more importantly, would like to realize them, you cannot afford not to watch this short important video.
FYI: We had huge progress on all these goals and more with a positive return on investment.  Eng and Buay are delighted.
 Travel business and tourism marketing topics we cover include:
The importance of increasing online channels of traffic.

How to avoid losing travel website traffic, even if you have lost Google ranking

How this Thai tour operator had their best off-season ever because of their active tripadvisor marketing strategy and top reviews.

Why getting lots of social media reviews and comments will increase your quality leads, sales

and

your search engine ranking too.
 

Tripadvisor Marketing Tips
How to get more reviews from happy clients.

Customer follow-up tips to earn more reviews.

Why staying in touch with former clients is one of the best tactics to earn more reviews, referrals and repeat business.

How they increased their tripadvisor leads from 0 to 15 a month in less then nine months.

Why tripadvisor leads are

300% better

for travel website page views, leads and sales.

How this adventure travel tour operator improved their tripadvisor rankings from # 89 to # 7 in "Bangkok sightseeing tours" in less than nine months.

Why trip advisors US$30 million broadcast media advertising can radically increase your traffic and sales if your tripadvisor marketing is done properly
 Why Having a Tourism Marketing Coach Was a Good Return on Investment
Tour operators Eng & Buay bought my Tourism Marketing Success online course in 2012 that included some introductory consulting. They got so much value from the course and consulting, they decided to hire me for some more help.
Here's some of what they gained from our work together:
How to get more customers.

How to follow-up with alumni to increase referrals, repeat business and social media reviews.

How to open up new travel marketing lead channels.

How to make more money than you spend when you have a good consultant.

The power of having focus and direction on what to do next.

The importance of step-by-step advice.

Strategic planning, both short and long-term.

Why having me as a coach is fun.

Why having a coach can help you step back from your business and "work on your business, not in your business", so you can grow your tourism business dream.
If you would like to grow your leads, sales and profits too, and find out more about consulting with me, send me an e-mail here or comment in the Facebook box below.  Starting in December, I have space for only 2 more consulting clients so call or email soon if you are ready and serious about growing your tourism business dream too. 
 What did you most get out of this interview? What tripadvisor marketing or travel business help do you most need? Let me know.
 Please post your top questions, comments and advice below so I can help you.
 Thanks for liking this in Facebook, sharing in Google, Twitter and more.