3 Elements for Successful Video Tourism Marketing
Join us for part II on video tourism marketing to learn what type of video marketing is best for your travel, tourism or hospitality business. This includes how to plan, budget and use your promotional video (s) for building your brand, advertising and increased bookings.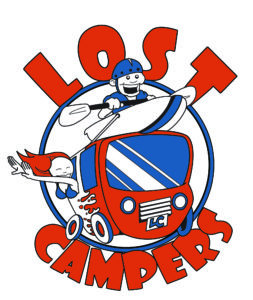 In late 2015, Lost Campers USA, a medium-sized campervan rental company with three offices and 140 campervans, and one of my ongoing clients, agreed with my recommendations that they were overdue for some video tourism marketing.  They had done very little video marketing previously.  Mostly short clips and slide show videos on their YouTube channel, Facebook and nothing on their website.
I knew that a good short video was a great opportunity to improve their tourism marketing with a great return on investment (ROI) and we could use the videos everywhere.  (see video below) Next steps were the planning and production process.
Listen Now
 Tourism Video Marketing – Part II of II

Click on Player Button to Hear or Download Travel Business Success #62
This is part 2 of a 2-part interview on video tourism marketing and how you can create more successful tourism marketing videos too. If you missed part 1, listen to that here.
Below are three important elements we considered to create our 90 second "lifestyle video".   Our video tourism marketing ROI has been great.

This new video has generated almost 17,000 views, increased bookings, and radically enhanced their brand in a very competitive US campervan rental marketplace.
Highlights & Key Questions on Successful Video Tourism Marketing. Part II
What are the potential costs and returns for you?

If your return on investment is big enough, the investment is certainly worth the time and money.

Your video can be a corner stone of your marketing and branding

Video tourism marketing provides long term return
What is the best format & how do you intend to have it benefit your business?
A key question to ask is: Is this video for long term branding?  Is it to educate someone on your tours or service or both.  This will help you to determine your budget and style of options below.
Low budget: better to do "How to videos"

How to videos can be great, get lots of viewership and build your expertise and brand. Our "How to set up a roof top tent," video has gotten over 8000 views.
Medium budget: you can include "how to" elements, a more creative story, plus client testimonials to increase credibility
Marketing & Promotions with Video




The key question on video tourism marketing is: Where will you use your video?

A good travel marketing video is best used in a highly conspicuous location on Website. Preferably the home page. See LostcampersUSA.com

Your video should show viewers what it would be like to work with you, go on your tours, stay in lodging, etc.

Another key is your travel marketing video must build your "credibility". Also called "Social Proof". Watch the 1-minute video and see our small but important "Credibility Statement" at the very end of the video. 1:18 seconds.

Tourism video advertising: Short videos for YouTube or Facebook ads are the best. They can be as short as 30 second videos. You can take your existing video or " B" roll extra footage and put together more short clips for advertising your travel business online.
Tourism Video Marketing: "Lifestyle Video"  Client Sample
My guest today is Lawrence He from Polygon Visuals. He helped me understand a "Life style" video is about telling a story.  This type of tourism video marketing shows how a customer might experience your product or a story on the kind of experience they might have.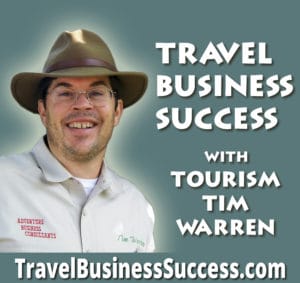 Subscribe for free today. Find out why 1000's of global travel, tourism and hospitality worldwide just like you, listen to and prosper from the tips and no BS advice Tourism Tim and his industry experts share to help you prosper in your travel business dream.
Thanks for subscribing to Travel Business Success Radio Podcast on iTunes here for free.
What is your #1 travel, hospitality or video tourism marketing question or comment?
Please post them at the bottom of the page in the Comments Window. We'll get back to you with more answers and advice to help you succeed.