How to Sell More Travel – Especially Online
Over the last 3 weeks while interviewing fellow tourism professionals, one critical marketing questions that impacts you has come up. Your opinion is needed today.  See below.
The discussion has been about: What has increased your sales and arrivals and what has not?  A clear trend is unfolding…

Travel & Hospitality Industry Fact:

Over 94% of ALL Travel & Leisure is being researched online and now over 50% is booked online.
This means to even be in the travel game you must have these 2 things if you want to your increase sales, profits & arrivals.
A website that converts shoppers into new prospects, sales and arrivals with a compelling marketing message

A constant stream of targeted online traffic
That's why during these video interviews, I want to know about their travel websites sales conversion and traffic generation strategies.

Things I want to learn more about, that I know will help you too are:
What makes one travel website sell better than another?
Why do some travel websites generate targeted prospects, and increase sales and arrivals, while most languish?

This is where I need your input today.
What is your #1 question about how to make your website generate more inquiries, sales or targeted traffic?

I am doing these interviews and asking for your input because I am a constant student of the business of travel and I want to share with you solutions and strategies that I am learning.
Thanks for taking a moment right now and sharing your question, concern or opinion.
You can reply to this email with your question. But I would prefer if you would go to this blog page link and post your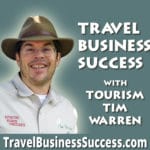 question there because then fellow global travel professionals can see your opinions and questions.
PLEASE PLACE YOUR TOP IDEAS AND QUESTIONS ON THIS CORE TOURISM MARKETING TOPIC on HOW TO SELL MORE TRAVEL IN THE "Speak Your Mind" BOX BELOW THIS POSTING.
To your success, Tourism Tim
PS Please share this survey with friends, associates to help us all sell more travel. Thanks for sharig this post in Facebook, Twitter for "liking it" 🙂