Today I am especially joy-filled to celebrate World Tourism Day 2014, the uniting of global communities and enhancement of quality of life through tourism.
2014-09-27
Today as I think of my over 21+ year journey in the business and marketing of tourism, I have so much to be grateful for.
Countless thanks to all I am blessed to have worked with, helped or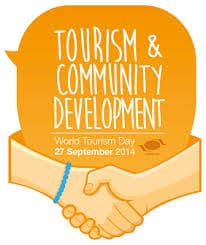 inspired on this amazing journey. 
One of the things I most appreciate about the tourism industry is that when we reach and inspire people to travel with us (though effective tourism marketing), provide exceptional experiences (thorough great customer service and protection of our natural environments), we are in the Quality of Life Business.

Not only are we enhancing quality of life for our visitors and guests, but equally important, for the staff we serve, communities we participate in and how it enriches you.
We are all in this together.
World Tourism Day 2014 Celebration Video



Watch this World Tourism Day 2014 inspiring and heart-warming video today. Blessings fellow travelers and the people of global communities who shares their lives and homes with us.
What is Your Dream in Tourism, Travel or hospitality?
When I think of the 1000's of people worldwide in the tourism industry, or want a business or career in tourism that I have met personally, or interacted with online or the phone, one thing that we all have in common ( including me), is we all have a dream.
A dream of doing something fun. Meaningful.
Working with people, be in the outdoors, share our special knowledge, expertise or customs, share our region or special environment with guests.
Make a difference in the world…
What is your dream or story in tourism? 
Please share your comments in the Google Comment box or in the "leave a reply" box below. This will inspire your global tourism peers and further connect you to our global travel community.

We are all in this together.
I so look forward to many many more opportunities to inspire, connect and help current and future world tourism stakeholders realize their dreams.

The adventure continues… 
To your Awesome and Abundant Success; 

Tourism Tim Warren